5 – 7 april 2013 – De Heerlijckyt van Elsmeren, Geetbets
Het eerste "Life as Learning"-weekend plaats, o.l.v. James Bampfield en Saskia Szepansky. Over: hoe kan je het beste uit jezelf en je leven halen, en voorkomen dan je je leven op automatische piloot leeft?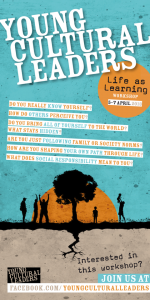 GETUIGENISSEN
"The most remarkable thing for me on the weekend is that we started, most of us, as total strangers and ended up as a group of people who shared such great and intense moments together which made me feel so connected." (Elien, 28 jaar)

"Het weekend heeft me erg geraakt. Door de werkwijze van Quinx spelen gebruikelijke identificatiemiddelen als opleiding, afkomst of leeftijd geen directe rol meer en maakte dat ik in het contact met mezelf en met anderen gauw tot de kern kon komen. Deze vorm van contact baseert op werkelijke wensen en drijfveren van eenieder en ik ben ervan overtuigd dat hier de sleutel voor een transformatie naar een meer harmonische wereld ligt." (Misja, 30 jaar)
Meer getuigenissen kan je vinden op de website van Quinx.